Green Party Deputy Leader Amelia Womack today paid a visit to the Cambrian railway buildings in Oswestry, to support the campaign for Green by-election candidate Duncan Kerr.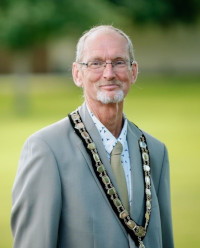 Amelia said "I'm so delighted to support Duncan Kerr's campaign to become MP for North Shropshire – he is an exceptional candidate and I know how successful the Green Party have recently become in Oswestry and across Shropshire."
"Before May, North Shropshire had a Conservative-controlled town council, county council and national Government for a decade. Local people have told me they're sick and tired of feeling like nothing can change."
"But in May of his year the Green Party won 12 of 18 seats on Oswestry Town Council and is the only opposition party to represent North Shropshire residents on Shropshire Council. This by-election is an exciting opportunity for voters to bring that change to Parliament by electing a Green MP."
Councillor Kerr, who serves on both Oswestry Town Council and Shropshire Council, said the visit to the Cambrian railway buildings served as reminder of the kind of public transport the town once had, and could have again.
"I wanted to show Amelia how we've seen promise after promise from the Conservatives to reconnect the 3 miles of railway from Gobowen to Oswestry – but no action."
"But now there's a Green Town Council in Oswestry we have won the first small step in the receipt of £50,000 from the Government. Of course, when compared to the £25M for Oswestry's Mile End roundabouts it shows you where the Government's priorities lie."
"So far, Shropshire Council has not pledged a penny to make this essential re-connection happen, and even worse - that that it has neglected the Cambrian railway station it owns to such an extent that the people of Oswestry can no longer enter this heritage building."
"At the same time it has lost £34M pounds buying shopping centres in Shrewsbury, and plans to spend at least £20M on the destructive North-West relief road."
Amelia Womack said: "Not surprisingly, many voters in North Shropshire no longer have confidence in the Conservatives and are giving their support to hard-working community leaders like Duncan."
Duncan Kerr added: "If they really cared about North Shropshire, the Conservatives would have sorted these problems by now. They would have also installed a lift over the bridge at Whitchurch station and reopened stations like Baschurch."
"Voting Conservative won't change anything. In Oswestry we have proved that when you vote Green, the town gets more investment not only for the railway but for the town centre as well. Having already elected me as an Oswestry town and county councillor voters know I will always be available and work hard to make the town prosper."
"Furthermore, you have my pledge that I will restore the notion of public service by only taking the UK average wage".
Edit: Amended on 7 Dec 2021 to replace "Whittington station" with "Whitchurch station".